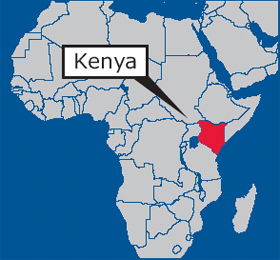 I am officially done with school for the year and am now a Senior in college! This time is going by way to fast and I don't like it. However, it does feel good to finally be done with the bazillion papers and presentations I have had due in the last few weeks. I don't know what I was thinking when I decided to skip the last two weeks of school, but now that I am done, I can finally focus on my trip to Kenya!!
Last night, Nick sprayed my mosquito net and all of my clothes with Permetheran (bug spray) so that I don't get Malaria. My bags are backed and I'm all ready to go! About a month ago I had 8 shots and received 4 prescriptions. Hopefully those will help keep me from getting sick while overseas!
I would like to thank all of those who have made this trip possible by either contributing financially, by donating books and toys for me to take to the orphanage, and especially those who will be praying for me while I'm gone! Your support means a lot to me!
For those of you who don't know, this Saturday, May 30th, 3 friends and I are flying to Nairobi Kenya to volunteer in an orphanage for a month. Our first flight is 10 hours and goes from Seattle to Amsterdam, where we have a two hour layover. We then get back on the plane and fly for 9 hours to Nairobi, Kenya. Kenya is on the east coast of Africa and is bordered by Tanzania, Uganda, and Somalia. Don't worry, we are going NO WHERE near the Somalia border so we should be fine!!
While there, we will be staying with a host family which will be great because it will allow us to truly learn about the culture. I will try (key word is try) to call Nick at least once a week to check in and let everyone know that I am still alive and well. Feel free to call him and check in on my progress. I will also update my blog and facebook as often as I can find an Internet cafe. Check both regularly for updates and pictures from my trip!
Also, here is a link to the latest news letter from Fadhili Helpers, the non-profit that I will be working with. Check this out to see projects that they have been working on.
http://www.

fadhili

.org/newsletter/newsletter_may_09.pdf
I ask that you all please pray not only for our health and safety while over there, but also that we will be able to make a lasting change in the peoples lives who we are working with!
Love you all,
Nikki
pic 1: I will either be in Nairobi or Mombasa!
pic 2:Map of Africa with Kenya Highlighted
pic 3: Larry standing next to a months worth of cloths
pic 4: My clothes and mosquito net drying after Nick sprayed them with Permetheran